Our primary goal is to maintain the generation plant and its equipment allowing it to operate at the highest efficiency and at the lowest cost of production. This is achieved through the Company's local staff, who are specialists in all areas of operation and maintenance of machinery with the highest international standards followed in power plants. The Company has successfully accomplished significant achievements in 2021, summarized as follows: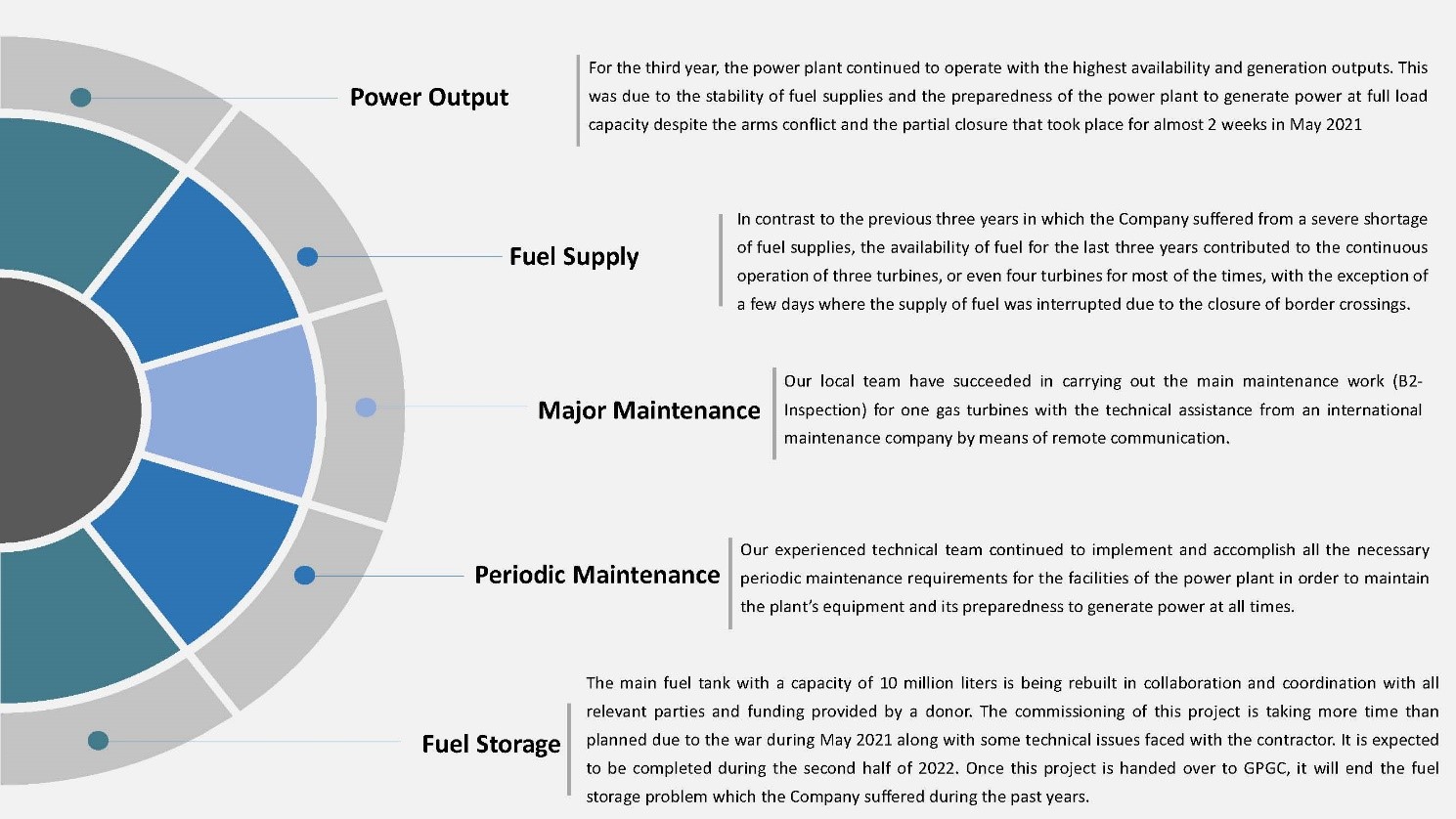 Despite the uncertainties and challenges that the Company faced due to restrictions or delays in importing some materials and equipment to Gaza, the Company shall keep exerting as much technical efforts as possible to execute its current and future plans during 2022. Some of these plans are as follows:
Our technical team will carry out the necessary major maintenance for two gas turbines and one steam turbine during 2022, according to the approved plans and programs.
Commissioning of the new 10 Million liters Fuel Storage Tank:
Participate in the supervision of the handing over works of the new 10 million litters fuel tank, which is planned to be ready for work during the second half of 2022. The Company will make its best to integrate it with the existing systems and ensure that testing and commissioning activities will be in accordance with international standards.
Conversion of Power Plant to operate with Natural Gas:
The Company is currently working with the plant manufacturer and other international companies to complete all technical aspects related to the conversion of the power plant to operate with natural gas, once it becomes available.
The Company aims to maintain the continuity of electricity production with the highest possible efficiencies by developing its facilities and operating technological systems as per the latest international standards allowing the company to growth and expand, all in accordance with a mechanism that protects its rights and fulfils its obligations.